Back to
Events
2019 – Contributing to Human Security Through Training: A Mission Impossible?
Training of international security forces and governance actors is commonly seen as one of the more viable and safe options to contribute to goals as wide as Security Sector Reform (SSR), Protection of Civilians (PoC), Gender, counter terrorism, stabilization, anti-piracy and border security. The Netherlands contributes to many forms of training with a variety of means coordinated by a diversity of bodies. Building international capacities in complex and fragile settings is riddled with challenges such as competing political interests and coordination mechanisms, a limited capacity to plan for and adjust to local realities, a general lack of outcome tracking and ultimately the risk of harming human security despite the best intentions.
On December 3, 2019, the PoC department of PAX brought together international training experts and policy makers in the field of training with the explicit aim to discuss and suggest recommendations to the Dutch training efforts and to contribute to the impact on Human Security through Dutch contributions to international training.
About this event
Date of event:
December 3, 2019
Program
More information
Reports & publications
Presentations
Evaluation
Latest publications about this event
All media types
All media types

News

Podcasts

Reports

Videos

Events

Infographics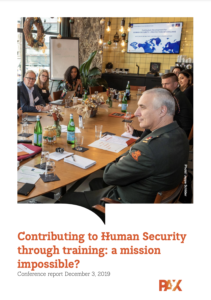 report
Event Report - PAX PoC Conference 2019: Contributing to Human Security through training: a mission impossible?